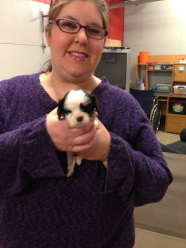 "Best decision I made..."
"I live in a pet friendly apartment & was looking for a dog breed w/ a sweet temperament, smart, easy to train & loves kids & ppl. After much research I found the Cavalier King Charles spaniel next task was to find a respectable breeder as I am very careful who I buy a puppy from & after checking out several different breeders in the Ohio/ Michigan area I decided on Cav Corral... Best decision I made... Cynthia & Lee are very knowledgeable about the breed and animals in general, they were able to answer any & all questions & concerns I had. I was very impressed w/ how well they take care of their animals & I must say I have never met anyone who dedicates their lives to their family & pets as they do. I was also impressed with the fact that they don't  just sell their puppies to anyone. Clearly it isn't all about the $ to them, these ppl truly love animals & love doing what they do! When  you buy a puppy from them you are not just a customer, you are a friend.. Furthermore if you have any concerns about your pet after you take your pet home they will be more than happy to help you. I found the Cavalier King Charles spaniel next task. I fell in love with this breed & If you are looking for a puppy look no further than Cav Corral, I promise you won't be disappointed. I must warn you though once you get one of their puppies it's kind of like  eating chips you will want more than one! This is me & my Tri colored  Cavalier Gypsy & I plan on getting another one from them in 6 months." 

"We are so grateful for meeting Lee and Cynthia..."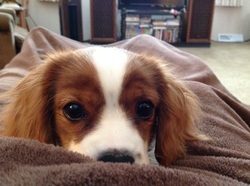 We are so grateful for meeting Lee and Cynthia.  After checking many, many various breeds of puppies and also checking out rescuing  puppy(s) from dog shelter(s), we came across an ad for "Cavalier King Charles" puppies.  They(Cavalier Corral) were willing to spend hours explaining the advantages of a Cavalier.  We originally only wanted a female puppy, but Lee and Cynthia explained to us that there was very little difference within the Cavalier breed between the two.  We settled on a little boy and are extremely happy with our choice.  Lee and Cynthia delivered our "Beamer" to our house and spent a good two hours answering all our questions and making sure we were comfortable with our new little family member.  We would highly recommend them to anyone interested in adding a Cavalier puppy  to their family.  If you question, "Boy" or "Girl" we feel(our experience) that there is really very little difference.